Welcome!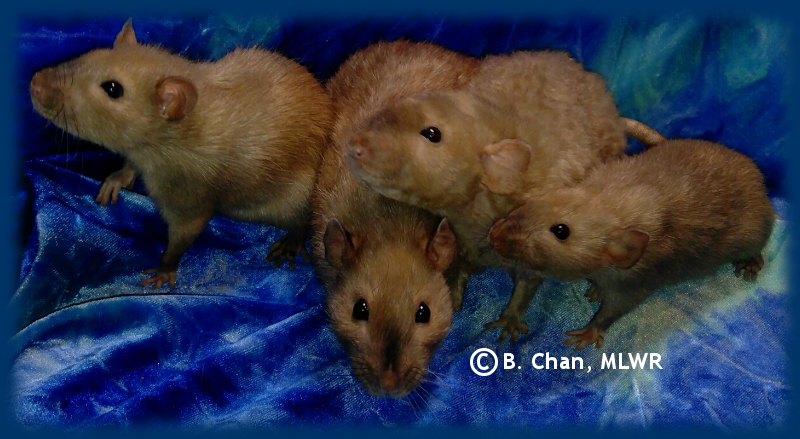 There are no rats available at this time!

Please check our planned litters page for information on potential upcoming litters, read our policies page for information on adopting from us, and fill out our adoption application if you are interested in getting rats from us! Also check our links page for links to other breeders we recommend, as well as rescues.

You can now follow us on facebook by "liking" our Moonlit Waters Rattery page. We will post pictures and updates there, as well as on the website.
NEWS
*Don't forget that there are rats in shelters and rescues who need loving homes! The local shelter regularly gets rats in (they even recently had an adorable litter come in that they placed out. Their website is here: www.cuhumane.org

*Remember to adopt in at least pairs! No rat should EVER be kept as an only rat! If you don't find what you want here, there are plenty of other rescues out there, check out petfinder.com!

*We have test results from our 2016 annual IDEXX-RADIL blood test available. Click here to see the test results, as well as results from previous tests.

*There is currently a lot of understandable concern going around about the Seoul Hantavirus. It is important that people educate themselves about this potential risk, and remember that there have been very few cases compared to the number of homes with rats and people in contact with rats. To our knowledge our rattery is isolated from this virus, as we have not taken in or adopted out any rats in well over a year, we do not attend shows, take our rats out to public places, etc. Our rats have only left our rattery in the past over a year in the case of Planet having an emergency visit to the vet where she passed away, and had a full necropsy, histopathology, culture, and serology done on her (and was not found to have any troubling results.) As such it is highly unlikely that our rattery is at all connected with the reported cases of the Seoul virus. That said, we are monitoring the situation closely as we are always concerned about potential health issues that could affect us or our rats.

*For more information on the Seoul Virus and the situation in Illinois, I recommend checking with the CDC and IDPH.
-CDC Article on general hantaviruses: https://www.cdc.gov/hantavirus/technical/hanta/virology.html"
-IDPH Article on the current Seoul Virus situation: http://www.dph.illinois.gov/news/illinois-department-public-health-reports-six-cases-viral-illness-linked-ratteries
About us...
My name is Beth, I'm a CVT and I live with my husband in Champaign, Illinois, where we have our small rattery in our home. I've been keeping rats for nearly 25 years and involved in the showing, breeding, and online community for a decade.

Our primary focus will always be on exceptional temperament and healthy animals first, as these are far more important than any particular color, coat, or ear type. However, we do have varieties we hope to focus on within those goals. Previously we worked with fawn, agouti, and russian silver, but due to various health issues, some genetic, some that simply interfered with producing litters, those lines have since been retired. Our current focus is our burmese line, where we are aiming for a goal of black based burmese and sable burmese, with satin and satin-rex coats, top and dumbo ears, all unmarked. Russian blue variations, siamese, and possibly other color dilutes may show up from time to time as well.

Our rats will always be a part of our family first, and breeders second, and any animal born here will always have a home with us if necessary for their entire lives. We seek out medical attention from qualified exotics veterinarians whenever needed for the sake of our animals. We believe that quality is always better than quantity, and will work to have that be reflected in our actions and our animals. Please stick around to watch us continue to develop!

For anyone out there who thinks that breeding any animal sounds like a good way to make some extra money, please take some time to read this page on the Average Profit/Loss On a Litter. It was published by the AKC in reference to dogs, but the same idea can be applied to any animal, especially animals requiring not just basic care but also socialization time, such as rats. It is an eye opener for many people who don't necessarily consider all the cost in time and money that is involved in breeding and raising a litter.

Moonlit Waters Rattery is a proud member of Rat Fanciers of the Lakes, working under the United Rat Standards Affiliation
We will hopefully add a page here soon that reviews the rat standards under URS.