| | |
| --- | --- |
| | |
Litter of BVR Corza Jarn & FSTR Rhea

All reserved!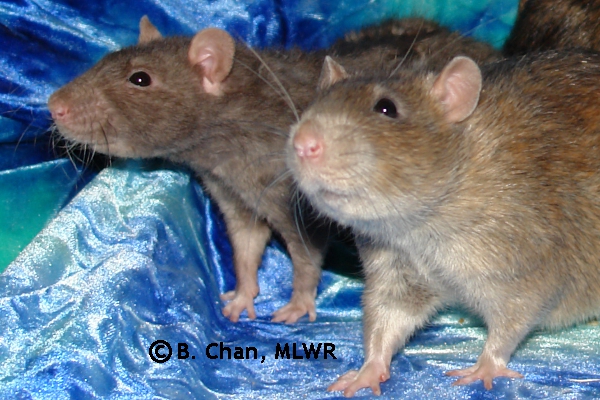 BVR Corza Jarn x FSTR Rhea
Litter Pedigree
Date of Birth: June 6, 2012
NARR Litter Number: 12MLWR0056
Theme: Greek Dieties
Number of babies:7, 1 stillborn, 6 surviving. 3 girls, 3 boys.
Available for Reservation: July 3, 2012
Can Go Home: After July 18, 2012
Genetics:
Corza, Russian Blue Agouti Self Satin Coat Standard Ear Buck: A/- d/d M/m s/s H/H x
Rhea, Mink Self Rex Coat Standard Ear Doe: a/a D/- m/m S/- H/H Re/re
Expecting:Agouti and cinnamon in rex and standard coats. Possibility of black and mink, chance of russian blue agouti, russian blue, russian cinnamon, dove, slight chance of satin and satin rex.

This litter should help us keep the rex gene going so that we have more of this coat type available in our lines, while staying focused on excellent personalities and healthy rats. Corza is a big guy with a laid back personality and beautiful large eyes and Rhea is an absolute sweet little girl who loves to give kisses and will happily ignore treats in favor of attention. She loves to dash out the door and onto shoulders at the first opportunity! We are looking forward to very loving, sheep-like babies from these two, and are so excited for the chance to see more rexes with the awesome traits from these parents!

Rhea gave birth in the late morning on the 6th and is being a very attentive mom! Her litter size is fairly typical of the maternal side of her line, and the babies are eating well and making noise! We look forward to seeing what she has given us!

June 14: The babies are getting big! They are eating well and very active! We will probably have 2 boys available from this litter (can be paired with boys from Alia's litter for adoption). We are continuing to evaluate and watch them grow, but they are looking great at this point!

NOTE: There will be limited or no availability of rex rats from this litter, as we need to keep several rexes to try and evaluate them as they grow and select the best coats. This will help us select to improve the rex coats, and make them more available in the future for adopters to be able to enjoy.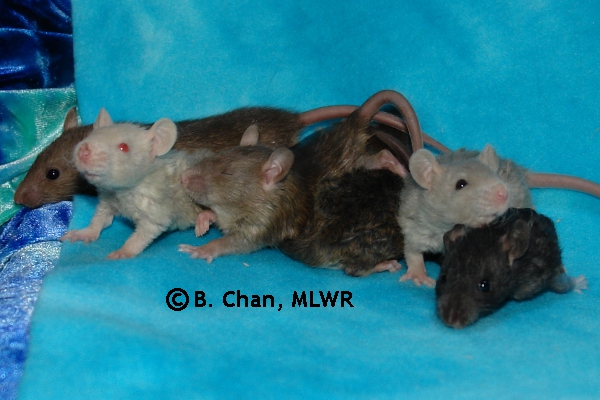 6/27/2012 - Group, 21 days old!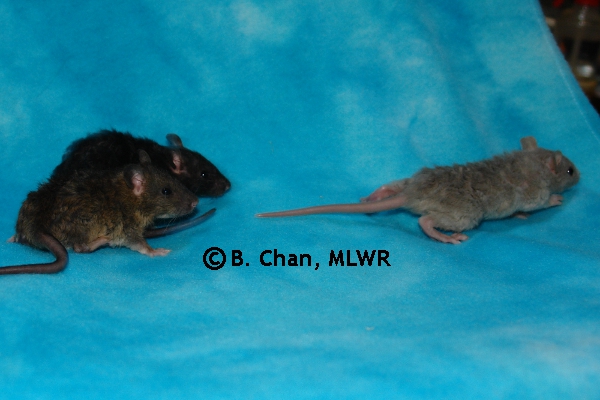 6/27/2012 - Girls, 21 days old!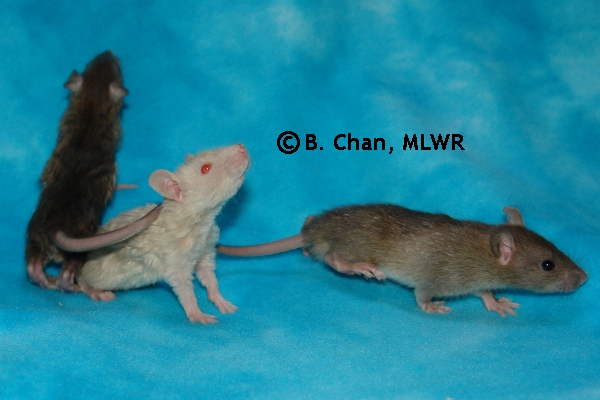 6/27/2012 - Boys, 21 days old!

More Pictures

Names may change as we watch these babies develop a bit more!
Girls

Boys


MLWR Athena
Dove
Rex Coat, Standard Ears
*Home with BVR*

MLWR Poseidon
Russian Cinnamon/Dove
Point Siamese
Satin-Rex Coat, Standard Ears
*MLWR Keeping*

MLWR Gaia
Agouti
Rex Coat, Standard Ears
*MLWR Keeping*

MLWR Pluto
Cinnamon
Satin Coat, Standard Ears


*Home with Brooke M.*


MLWR Hera
Black
Rex Coat, Standard Ears
*MLWR Keeping*

MLWR Apollo
Cinnamon
Standard Coat, Standard Ears


*Home with Karen S.*