Litter of MLWR Grretergrret x MLWR Internet Forever
MLWR Grretergrret x MLWR Internet Forever
Litter Pedigree
Date of Birth: September 29, 2014
NARR Litter Number: 14MLWR0039
Theme: Despicable Me
Number of babies:4
This litter is another outcross for our fawn line to help improve the respiratory health of the line, as well as help select away from russian blue in the line and keep the RED gene going in our rattery. Grretergrret is an awesome, huge guy with a laid back and loving personality, great health still and saturated coloring. Internet is a small but pretty girl who is very out going and sweet. Hoping for some snuggly and tucky babies!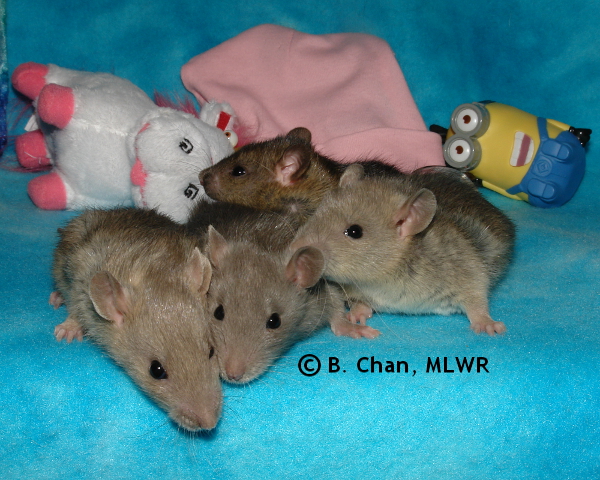 10/23/14 - Whole litter, 24 days old!

More Pictures

Girls

Boys


MLWR Agnes
Russian Blue Agouti
Standard Coat, Standard Ears


*MLWR Keeping*


MLWR Minion
Russian Blue Agouti
Standard Coat, Standard Ears


*MLWR Keeping*


MLWR Edith
Russian Blue
Standard Coat, Standard Ears


*MLWR Keeping*


MLWR Margo
Agouti
Standard Coat, Standard Ears


*MLWR Keeping*