| | |
| --- | --- |
| | |
Litter of MLWR-DAZL Iron Man x BVR-MLWR Viridian
MLWR-DAZL Iron Man x BVR-MLWR Viridian
Litter Pedigree
Date of Birth: Jan 19, 2015
NARR Litter Number: 15MLWR0004
Theme: Opposites/Oxymorons
Number of babies:11
Available for Reservation: February 20, 2015

IMPORTANT NOTE: There have been a few cases now that are indicating to us that a respiratory issue similar to that of our fawn line may be affecting this line as well. They do share common ancestors several generations back, combined in the litter that produced Iron Man and Firestar (Viridian's mother). The issue causes otherwise healthy seeming rats to become suddenly very ill with respiratory issues that are not responsive to treatment, leading to death soon after. In our fawn line we saw it in males, mainly between 14-16 months though it showed up as early as 9 months and as late as 18 months. In this line so far it has affected 2 females (Silverclaw and Ms. Marvel, both sisters of Iron Man and aunts to Viridian) and possibly 1 male (Thor, a brother/uncle - though he had chronic issues for a while so it is unknown if his issue is related). Other related rats have lived over 2 years without showing any signs of it. Any adopters should be aware that while we will not adopt out any rats that we know to be sick, and we are taking steps and evaluating to select away from this issue, that due to its nature it is undetectable until it hits, so there is a risk of any rats in these lines being affected by it. Please consider whether this is a risk you are willing to take before adopting, we do not want any adopters caught unaware by this.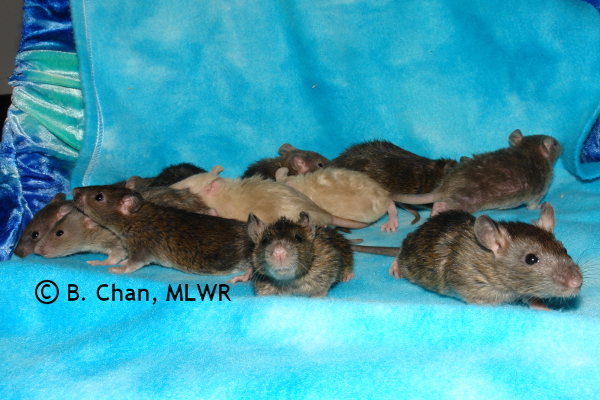 2/3/15 - Whole litter, 29 days old!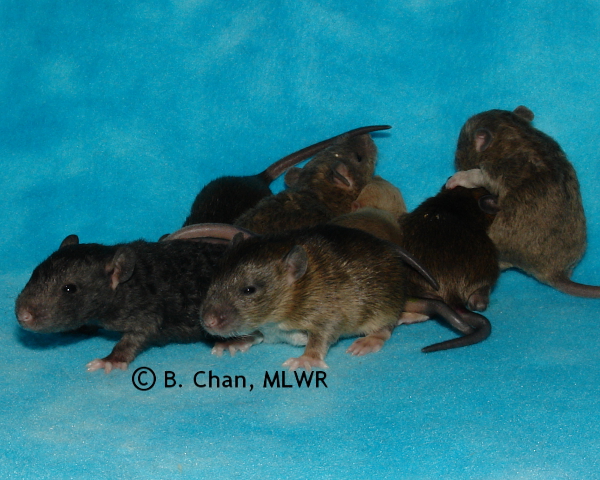 2/3/15 - Girls, 15 days old!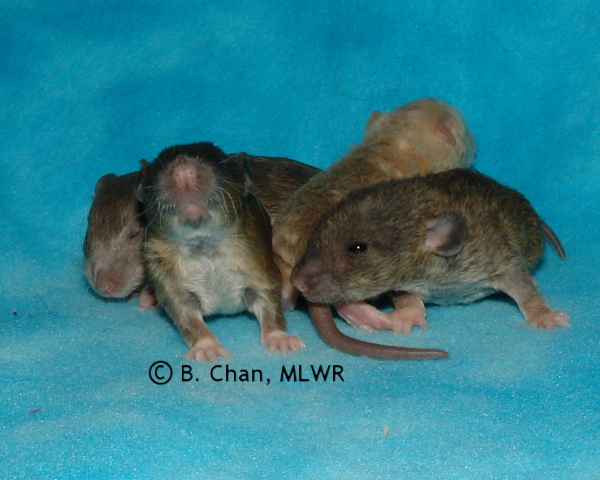 2/3/15 - Boys, 15 days old!

More Pictures

Girls

Boys


MLWR Icy Fire
Siamese
Satin Coat, Standard Ears


*Home with Torii M.*


MLWR Bright Night
Siamese
Satin-Rex Coat, Standard Ears


*Home with Deb F.*


MLWR Soft Stone
Russian Blue Agouti
Satin-Rex Coat, Standard Ears


*Home with Kelsey H.*


MLWR Sizzling Frost
Russian Blue Agouti
Satin Coat, Standard Ears


*Home with April H.*


MLWR Still Wind
Russian Blue Agouti
Satin-Rex Coat, Standard Ears


*Home with Torii M.*


MLWR Veteran Novice
Agouti
Satin Coat, Standard Ears


*MLWR Keeping*


MLWR Leisurely Dash
Agouti
Satin Coat, Standard Ears


*Home with Kelsey H.*


MLWR Calm Storm
Agouti
Satin-Rex Coat, Dumbo Ears


*MLWR Keeping*


MLWR Young Ancient
Agouti
Satin Coat, Standard Ears


*MLWR Keeping*


MLWR Heavy Feather
Agouti
Satin Coat, Standard Ears


*MLWR Keeping*


MLWR Dry Rain
Black
Satin-Rex Coat, Standard Ears


*MLWR Keeping*