Litter of MLWR Pyewacket x MLWR Nightwitch
MLWR Pyewacket x MLWR Nightwitch
Litter Pedigree
Date of Birth: March 2, 2013
NARR Litter Number: 13MLWR0010
Theme: Skritt
Number of babies:13 born, 9 boys, 4 girls. 10 surviving, 2 boys and 1 girl lost.
Available for Reservation: March 30, 2013
Can Go Home: After April 13, 2013
Genetics:
Pye, Russian Fawn Berkshire Headspot Standard Coat Standard Ear Buck: A/- G/- d/d r/r M/- S/- H/h Db/db x
Nightwitch, Russian Fawn Self Standard Coat Standard Ear Doe: A/- d/d r/r G/- M/- S/- H/H Db/db
Expecting:Russian Fawns, slight chance of Russian Beige and Triple Dilutes. Standard coats. Standard and Dumbo ears. Selfs and berkshire variants.

This litter is a sibling cross to help establish our Fawn line, as well as to try to bring any concerns to the surface so that we can select away from them. Nightwitch is a gorgeous girl, with a friendly personality, very gentle, and she has a super soft coat. She has really nice coloring, and placed 3rd in Agouti Self Does at our last show (with her mother taking 1st as well as Best Agouti Doe - and Nightwitch is shaping up to be a lot like her mom!) Pyewacket is a huge, laid back guy, a great tucker who has been a favorite since before his eyes were even open! His coloring is a bit less saturated, though this may be in part due to his markings, but he makes up for that with a solid build and great personality. Both have been extremely healthy to this point! We are hoping for a nice litter to move forward with our line!

IMPORTANT HEALTH NOTE: There is a known respiratory issue in this line. The grandfather of this litter, BVR Newton Pulsifer, died at 14 months after extensive vet care, emergency room visits, and extensive home care, due to an extreme and sudden respiratory failure. His brother, BVR Warlock Dowling, who lived many states away died just a couple weeks later under similar circumstances, and another brother, BVR Adam Young, who we owned here died another month after that due to respiratory failure. We had hoped that these problems were not able to be passed down, however MLWR Archimedes, who we have here, has shown signs of respiratory trouble, and while he is currently stable we suspect he is suffering from similar problems and will likely face an acute episode. His brother MLWR Pantalaimon at BVR recently died from a much worse case of respiratory issues and was unresponsive to antibiotics. We are working to select away from this issue, which first surfaced in the line at all with Newton. We have waited until the parents of this current litter, Pye and Night, are over a year old so that we had enough time to monitor for any health concerns and see how they develop, and we are monitoring them and their relatives closely. We hope by picking the most robust parents, and with careful monitoring, we will be able to select away from this issue. That said, it is VERY IMPORTANT that anyone who is interested in adopting be aware that any rats from this line may be at risk for developing severe respiratory issues that may prevent them from living a full lifespan. We do not want anyone to adopt without being aware of the potential problems that may be faced by these babies. We are hoping that our waiting and selection of the parents takes us away from those problems and that none of these babies will have to deal with such difficulties, but we can make no guarantees that they will not have similar issues.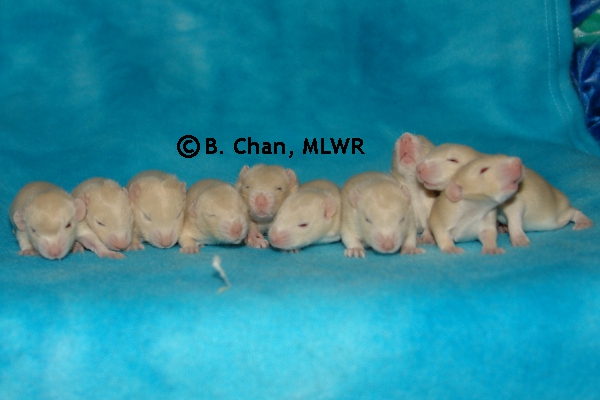 3/18/2013 - Whole Litter, 16 days old!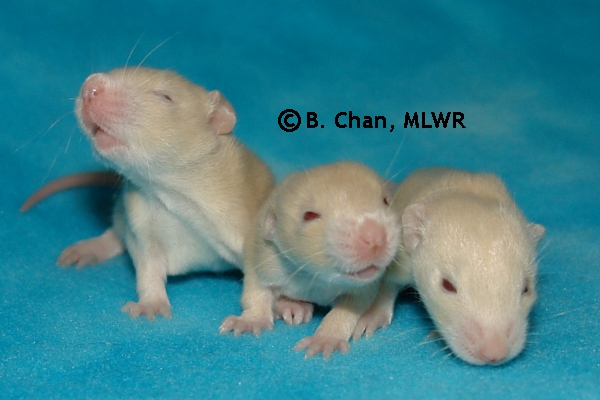 3/18/2013 - Girls, 16 days old!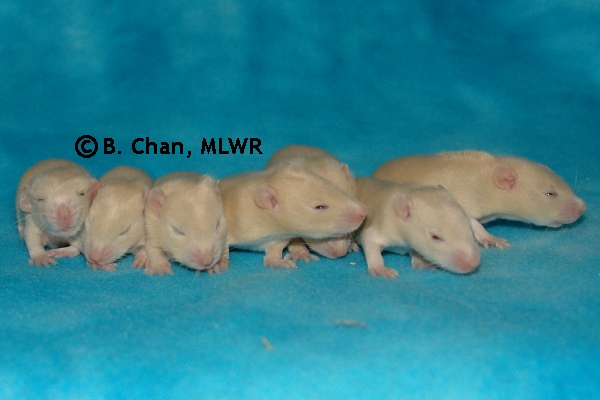 3/18/2013 - Boys, 16 days old!

More Pictures

Names may be changed around as we continue to evaluate the litter and decide on our keepers!
Girls

Boys


MLWR Rikkiti
Russian Fawn Berkshire w/Headspot
Standard Coat, Standard Ears
*MLWR Keeping*


MLWR Ftokchak
Russian Fawn Berkshire w/Headspot
Standard Coat, Dumbo Ears
*MLWR Keeping*


MLWR Bwikki
Russian Fawn Self
Standard Coat, Dumbo Ears
*MLWR Keeping*


MLWR Kattalay
Russian Fawn Berkshire w/Headspot
Standard Coat, Standard Ears
*Home with Liz P.*


MLWR Krakkilak
Russian Fawn Berkshire w/Headspot
Standard Coat, Dumbo Ears
*MLWR Keeping*


MLWR Grretergrret
Russian Fawn Self
Standard Coat, Standard Ears
*MLWR Keeping*


MLWR Tchkik
Russian Fawn Self
Standard Coat, Standard Ears
*MLWR Keeping*

MLWR Pappupew
Russian Fawn Self
Standard Coat, Standard Ears
*Home with Liz P.*


MLWR Kra'kronk
Russian Fawn Berkshire w/Headspot
Standard Coat, Standard Ears
*MLWR Keeping*


MLWR Klopp'toakka
Russian Fawn Berkshire w/Headspot
Standard Coat, Standard Ears
*MLWR Keeping*