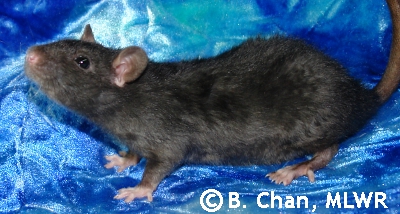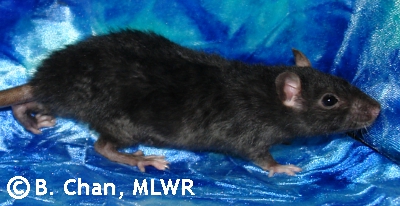 Pedigree


NARR:

12MLWR0056/04F


Nickname:

Hera


Color:

Black


Ears:

Standard


Coat:

Rex


Markings:

Self


Carries:

Russian blue, mink, satin, possibly siamese


D.O.B.

06/05/2012


Litter Page:

BVR Corza Jarn x FSTR Rhea at MLWR, Individual Page


Breeding Status:

Retired Breeder - BVR Hartree X MLWR Hera 3 babies born, none survivng.


Show Results:

2012 RFL Fall Show - 3rd Non-Agouti Self Doe


Notes:

Hera is an absolutely stunning little girl, with an awesome build, great head, big eyes, dark color, and good coat. She is very outgoing and friendly, and often the first to check out something new, always wanting to be in the middle of whatever is going on! We can't wait to see how she continues to grow, and look forward to having her here and in our breeding plans!

Hera is a gorgeous and sweet girl that we had really looked forward to babies from, but sadly she had a difficult labor, with only one live baby born out of 3. She needed assistance in birthing the last baby, and despite being very attentive the one live baby did not survive the night. Because of her problem labor she will not be rebred and is retired to live with her friends here. She is still doing very well, and seems quite happy just hanging out with her buddies!